Classical KING 98.1 is delighted to offer two exceptional opportunities each year for you to join a Classical KING program host and other listeners who share your passion for classical music and travel on a thoughtfully curated trip that combines art, history, and culture with top-quality concerts and an international itinerary. Explore the world with the KING FM Travel Club and connect the music that moves you with the places that have inspired or embraced it!
---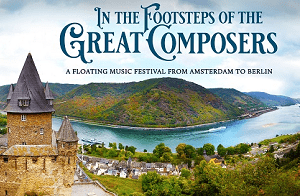 In the Footsteps of the Great Composers: Amsterdam to Berlin
Oct. 24 – Nov. 5, 2019 | 13 days | From $4,799
**Just a few cabins left!**
KING FM's newest cruise takes you down the mighty Rhine river from Amsterdam to Berlin via Leipzig in the footsteps of Bach, Beethoven, Mendelssohn, Schumann and many others…
With Lisa Bergman, Christophe Chagnard
---
For all questions regarding itinerary and logistics about these trips, please contact Earthbound Expeditions, our travel partner, at info@earthboundexpeditions.com or 206-842-9775.
For all other questions, please contact Blandine Van de Velde at blandinev@king.org or 206-691-2975.